After considering doing it for a few years, I finally did the Cabot Trail this month and am glad I did. I'll share my experience here in case it can help other people planning similar trips, especially given the relative scarcity of information I could find prior to my own trip.
Note that I did this trip solo, sleeping in motels/hotels/Airbnbs, as I prefer to go at my own pace and it was also cheaper than with the organized tours.
Day 0: Montreal to Sydney
I flew from Montreal to Sydney on Aeroplan miles, with an almost 12 hour layover in Halifax on purpose. This allowed me to visit the city (public market, harbour walk, citadel, public library and Canadian Museum of Immigration) and it was a nice side trip.
I then got to Sydney past 11 PM and was a bit concerned about getting a taxi to my Airbnb as the airport website is not very clear on the system. It turns out that there are taxis waiting at the airport, and a driver came to me while I was trying to get connected on the phone with the taxi company. It's a flat $15 rate to go to downtown from the airport, which is very reasonable given that it's a 13 km ride.
Day 1: Sydney to Baddeck (80 km, 825 m of climbing)
I took possession of my touring bike from FrameWork Cycle & Fitness – at $175 for the week, I figured it made sense to rent rather than carry my own bike on the plane, with the associated hassle and surcharges. I then rode to Baddeck, my starting point for the Cabot Trail. Google Maps cycling instructions tried to get me to go on a side road and then the Trans Canada Trail, but I backtracked after about 1 km of that as the trail was really bad, with water all over and huge potholes. I used the highway instead (bikes are allowed), and aside from the rumble strips that took most of the shoulder in climbs (two car lanes, narrower shoulder), everything went well.
Once in Baddeck, I checked in at my hotel, took a shower, and then tried Baddeck Lobster Suppers, where I got lobster with all-you-can-eat mussels and seafood chowder + dessert for $45. It's not fancy, but the food is good and I did have a second serving of mussels – it was a good spot after a day of riding the bike.
This was the start of the Cabot Trail for me. I was concerned about food options, so I had cookies, chocolate bars and chips on my bike, and had some of that around kilometer 20 to get an energy boost after a climb. I then stopped for lunch around kilometer 60 and got more food at Wreck Cove (km 72). There were a  lot more food options than I expected along the road – one thing I realized is that not all of the stores/restaurants are listed (or easily found, anyway) on the internet, but they advertise with signs next to the road (XYZ Cafe, 5 km, for example). Right after Wreck Cove, there was a 250+ meter climb on Smokey Mountain – some parts were challenging, but it wasn't too much of a problem in lower gear. The long descent following that was nice.
After about 8 hours, I finally got to my Airbnb RV in Neil's Harbour and went to have dinner at the Chowder House, only to find out that it is closed on Mondays. That's the only restaurant in town, and the grocery store (co-op) closed an hour before (at 6 PM), so I got ice cream at the ice cream parlour, ate a few snacks, and figured I'd go to the grocery store to get a decent breakfast the next day.
I enjoyed the fresh night (12°C on July 2nd) and slept well, in preparation for the toughest day of the tour.
While not the longest day of the tour in terms of distance, this was by far the toughest, with two big climbs and a temperature that felt like 35°C in the shade according to The Weather Network – except I was riding in full sun, on black pavement. I ended up drinking more than 6 liters of water and used two electrolyte maintenance powder pouches on that day.
I figured I'd have lunch in Pleasant Bay, at around half the distance and after the North Mountain climb – the first of the two big climbs for the day. It took me over 4.5 hours to ride the 47 km to Pleasant Bay, and I stopped *many* times during the North Mountain climb that morning.
I had a decent meal in Pleasant Bay, refilled my Cameback and water bottle, and went on to climb the MacKenzie mountain, which wasn't nearly as challenging as North Mountain (it was also a bit cooler at that point). There were a lot of pretty views along the way, and I got to Chéticamp a bit past 7 PM. Being a native French speaker, I enjoyed being able to communicate in French with several of the Acadian people living/working there.
The day started with a strong headwind where I was going about 14 km/h for the first 20 km or so, but it got much better after that, after I got further from the sea. I wanted to get to Baddeck early if possible in order to visit the Alexander Graham Bell National Historic Site, so I took fewer breaks and did my best time that day (17.1 km/h average including breaks, despite the slow start). The climb up Hunter's Mountain near the end was relatively easy compared to climbs in the previous days.
I got in Baddeck early enough to spend 1.5 hours at the Alexander Graham Bell National Historic Site and found it interesting and worthy of a visit – he's well known for his invention of the telephone, but I didn't know he had worked on a lot of other things, including planes and hydrofoil boats.
Day 5 – Baddeck to Sydney (80 km, 825 km climbing)
I got a flat tire on the way back to Sydney, but other than that, the ride was uneventful and very similar to the ride from Sydney to Baddeck. I made one small deviation to go through North Sydney and stopped at the Lobster Pound and Moore for lunch – I'm glad I did, since that's where I got my best seafood chowder of the trip, with great service and a generous portion.
After dropping the bike and showering+taking a nap, I went to explore the Sydney boardwalk and had a donair, then took it easy for the rest of the night since I was flying back to Montreal early the next day.
Can I see this on a map?
Here you go – note that this one has car driving directions, which stay on the Cabot Trail. If you ask Google Maps for cycling directions, it will make you avoid it at times.
You can also click on the distance/climbing for each day of the Cabot Trail above to view details from MapMyRide.
How was the pavement?
Very good, for the most part. There were only 5-10 km out of nearly 300 that reminded me of Montreal. There was also construction/road work on maybe 20-30 km, but eh, that's the price to pay for keeping the pavement nice…
Drivers were respectful and generally gave me plenty of room when passing, but having a helmet mirror would have made me feel better when I heard them coming.
Yeah, but what about your pictures?
There are lots of people who are more talented and/or dedicated than me when it comes to taking pictures. Searching Google Images for "Cabot Trail" should yield good results. That said, here are a few pictures I took: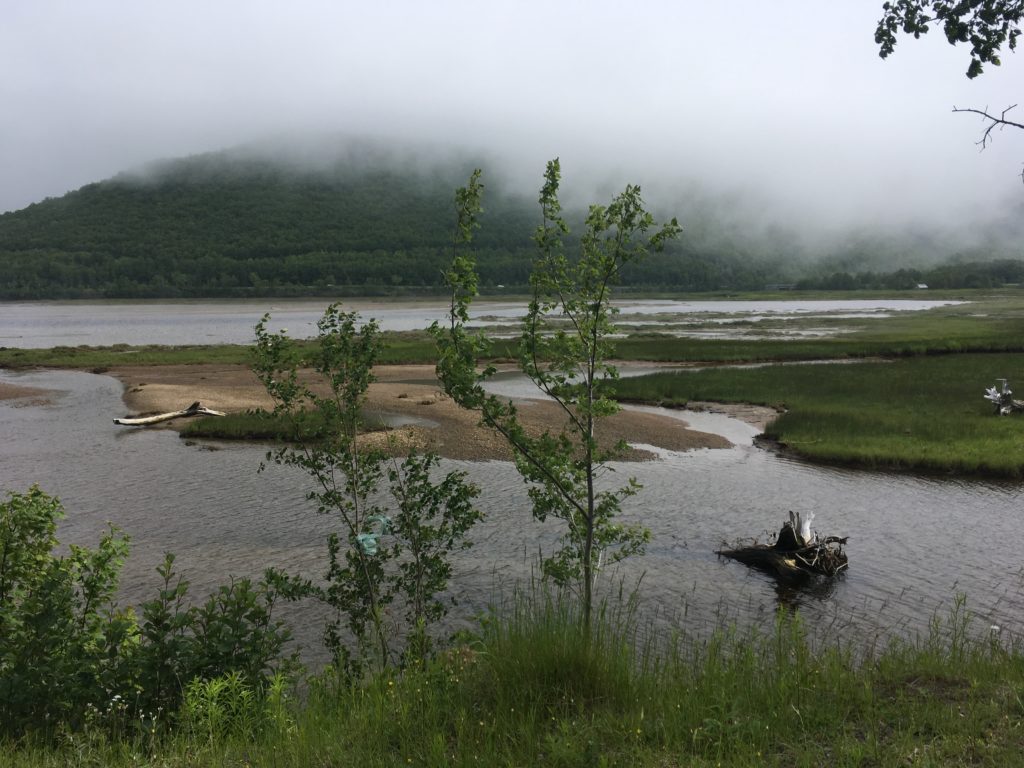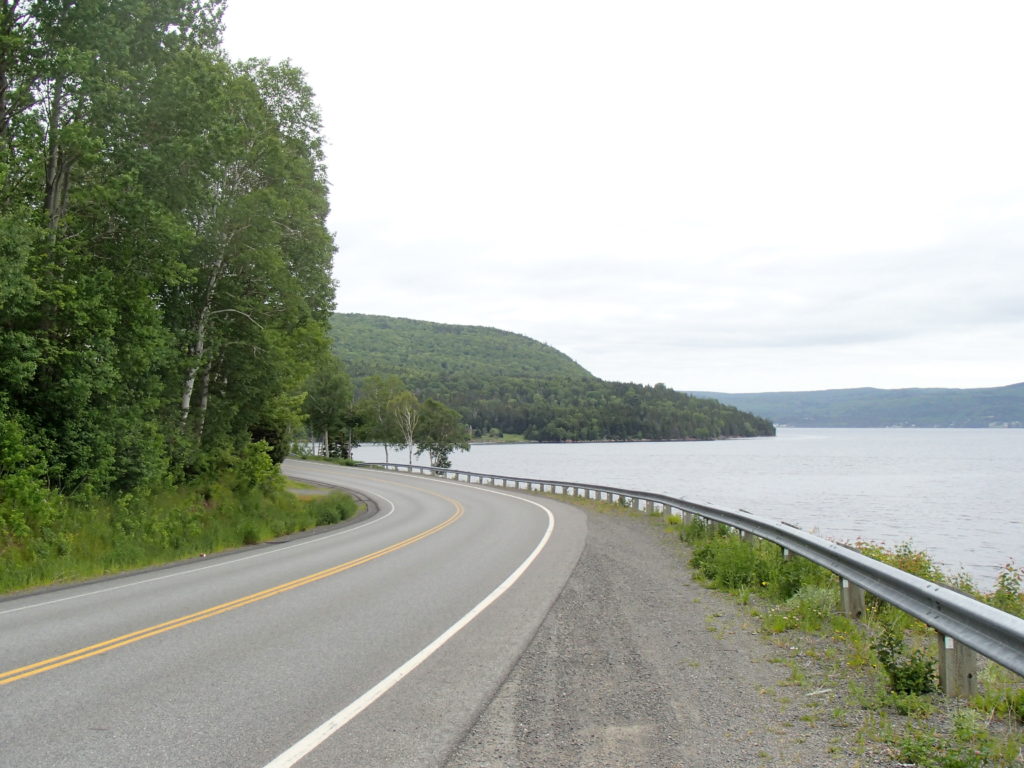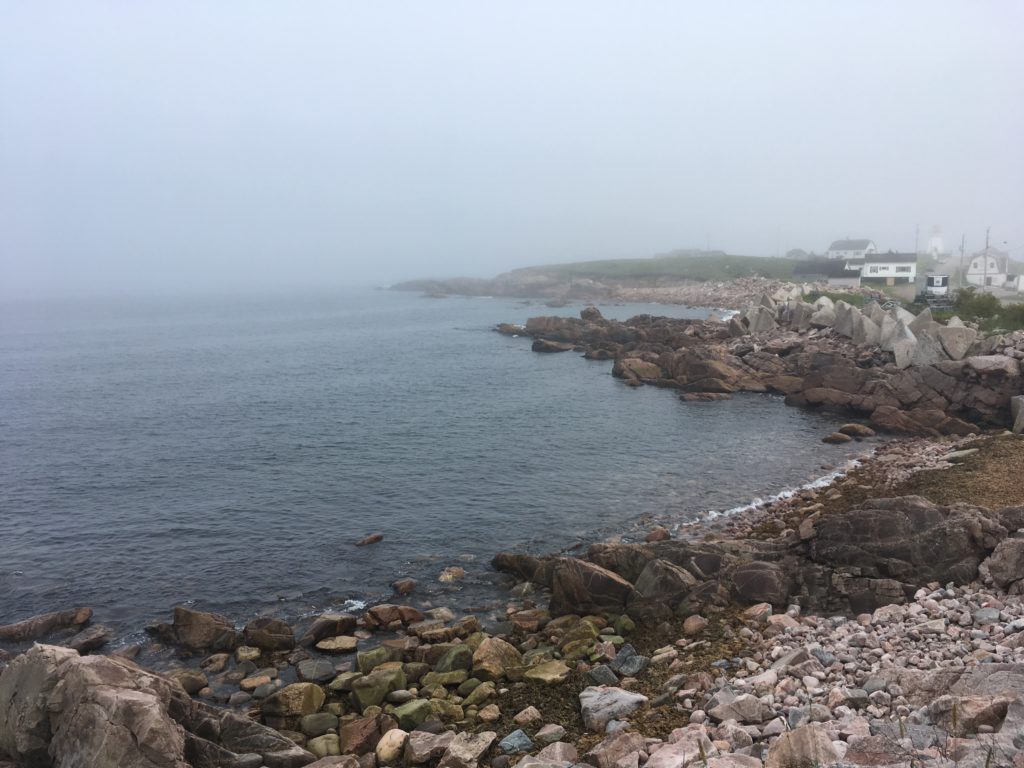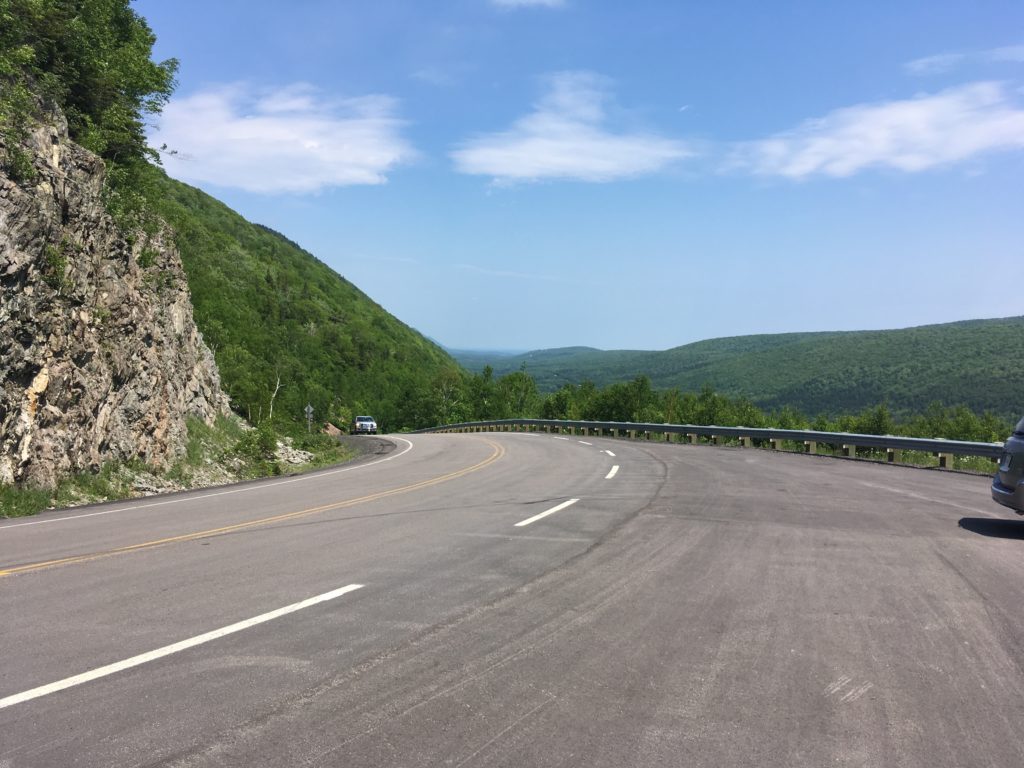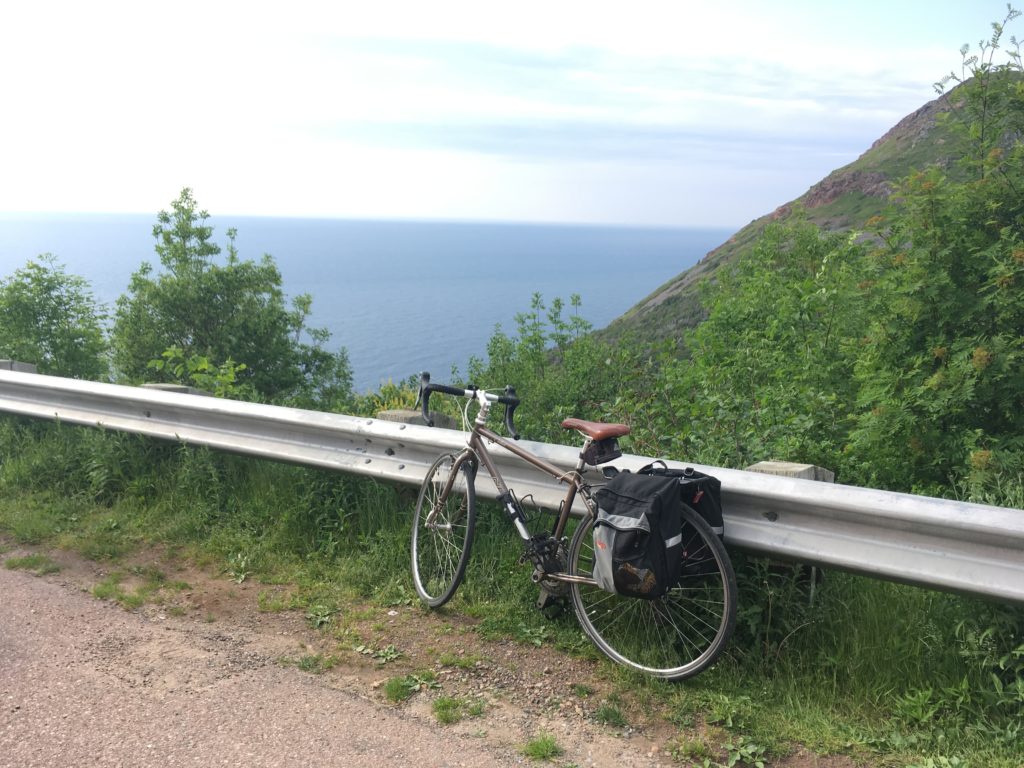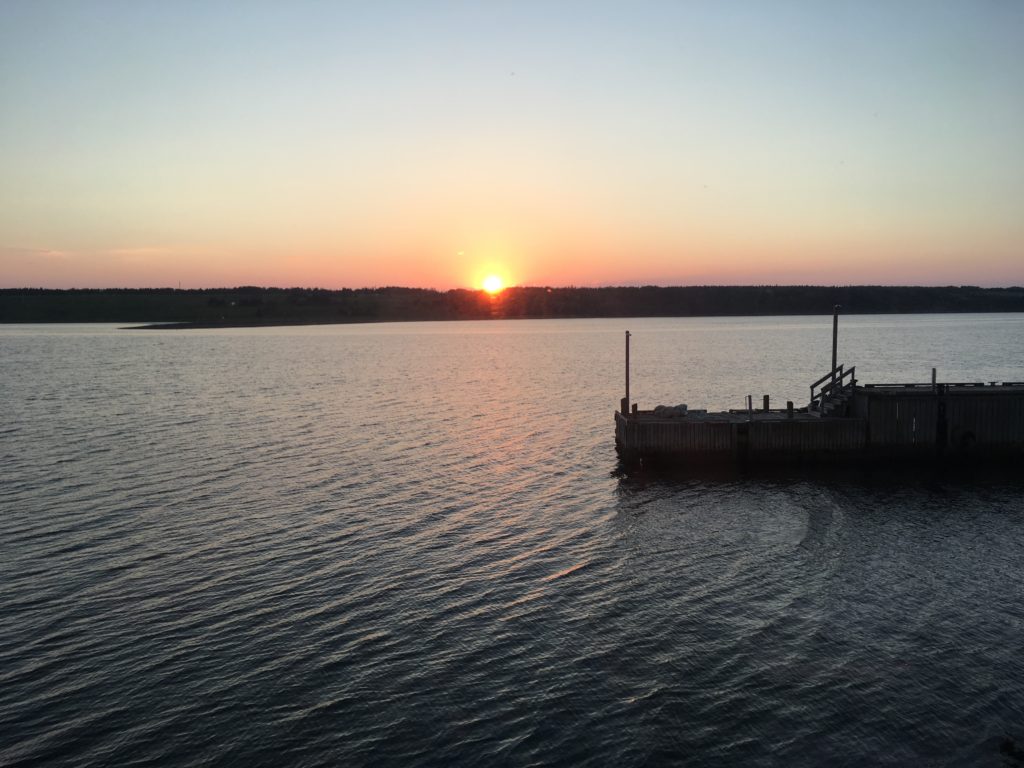 Any other question?
Just ask in the comments.
Thanks for reading!